So much for being done by Thanksgiving. 😛
I've been steadily knitting over the last two weeks and am about a third of the way through the second half of the front. I stopped the first front about 5/6 of the way through when the ball ended (just after the photo below was taken). The knitting is relatively exciting, given the amount of yarn that I have left, all of which is in the picture below. Ack!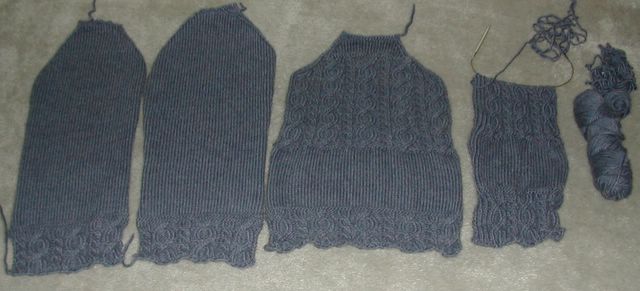 Now that the ball has run out for the first front, and I can guess how much I'll need for the second front, it's seeming really unlikely that the scraps will be sufficient to finish… There's still a shot that I could make it with an inch or two to spare, but in the meantime it's definitely suspenseful.
I've called around to try to get the same die lot (#084), but no luck. I'm hoping that with the cables, any color difference won't be too noticeable. Fingers crossed.