For those not living in the Seattle area (who would find this a statement of the obvious), it snowed last night! It had flurried a bit all day, and then finally started accumulating just before four. The roads were already clogged with everyone who left work at three to beat the storm, and the weather reports were daunting (and mostly wrong), calling for plenty more snow, a brief warm spell, and then freezing temperatures starting around eight. Everyone who wasn't already sitting in their car decided to beat the ice, and joined the traffic mess. People are so disfunctional about the weather/traffic vortex here.
Kevin was very impressed with the traction control on his mustang, but still couldn't get up the short hill that exits his parking lot, so I went to pick him up a few miles away in Redmond. The drive took an hour and three minutes. There was about two inches of snow on the ground (almost enough to cover the grass), but people were very intimidated by it, and the typical gridlock was complicated by a lot of poor decision-making. I had NPR on, the snow was so pretty on the trees and blackberry brambles, and it was fascinating to watch people, so blood pressure stayed low and I got there to pick him up faster than I expected.
I had my camera with me, so here's the pretty snow on the trees by Marymoor park. That area is extremely well lit, so I didn't use a flash. The pink tinge is from all of the brakelights in front of me.
And then here's the tree outside our front door once we got home: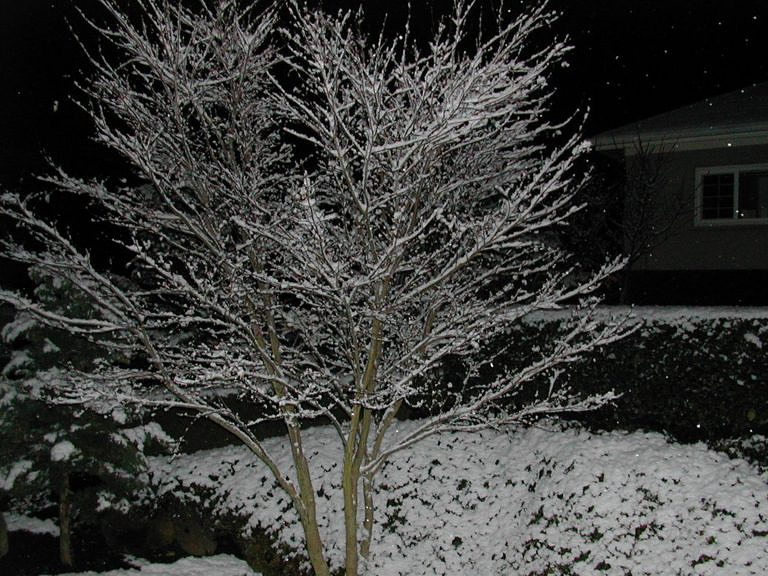 Today, the snow has been melting, but everyone's working from home to be "on the safe side."