Here's what this weekend looked like:

A book, an icy drink, and a duo of chairs carted around to a sunny or shady spot. On Saturday it got up to the mid eighties, and today was about six degrees cooler. There was sun screen, bare feet, and yard work. I cleared the side garden of weeds (you can see the nice clear patch above Kevin's head), to prep for herbs, beans, tomatoes and zucchini. The lilacs (we have two in the back, and one in the front!) have bloomed. The flowers haven't quite opened up enough to be able to smell them, but every now and then a breeze would carry the beginnings of lilac scent. It's going to be wonderful in a week or so. (That smell will forever remind me of doing calculus homework – graph paper out with the windows open on a spring night. Funny how memory works).
Our rhododendron just started blooming. Here it is glowing in the afternoon sun:

I love the blue flowers in the foreground – they're so vibrant and lovely. To the right you can see the Japanese Maple (top) and a fern (bottom), clearly not fazed by the recent pruning efforts.
We're totally inundated with small (¼") blue flowers. I don't know what they're called. They look like this: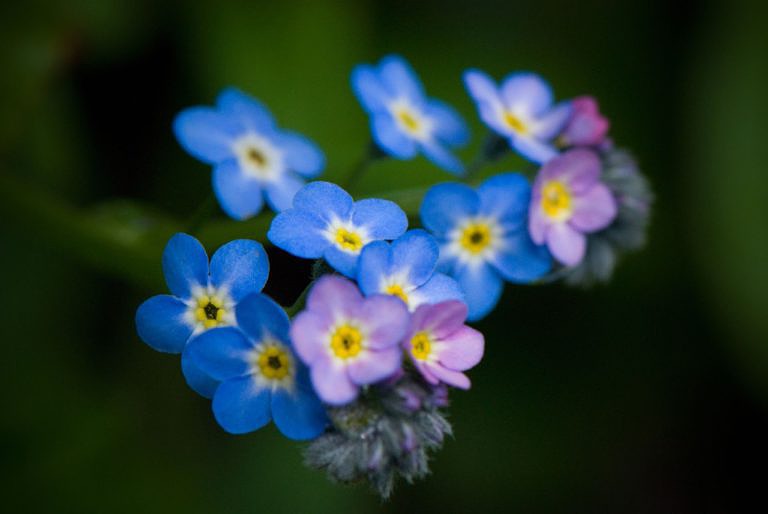 (shot by Kevin with his macro lens), on a nine inch stem. The first few looked a little bit weedy, but lovely, and since then, they've taken over the entire rock wall. We decided that they could have the two ends, but couldn't be in the middle. This photo is called "one minute before I ripped out the ever-present blue wildflowers".
Much better:
🙂 You can see the irises starting to really shoot up in the back!! Half of them are transplants from last year, and half were here already. I can't wait to see what we have! Also, the mini azalea has started to bloom – I love the pink. And our red primrose (bottom-left) is still going strong.