In August, Larry had been trying to organize us all for a day hike to see the wildflowers at Paradise (on Mount Rainier). Kevin and I waited too long to be start getting enthusiastic, and Larry decided it wasn't a good weekend. This week, he tried again (with a very reasonable 10 am leaving time), so Kevin and I jumped aboard enthusiastically. Well worth it. It was quite cloudy when we arrived, but every now and then, the glacier peeked through in extremely dramatic fashion.
There were slight calibration issues – Larry had proposed a "picnic" and "bringing up a bottle of wine" to share, and "looking at the wildflowers". So Kevin and I hemmed and hawed before choosing hiking boots over sneakers, and packed supplies including a cutting board, crackers, lots of cheese in a soft cooler bag, a picnic blanket, etc. We all climbed a quarter mile of rock steps up from the parking lot to the main trail, then over a ways to this stunning waterfall.
I was still feeling quite enchanted, but then Larry pointed out the real trail and I realized that perhaps I hadn't understood his "wine and cheese" concept correctly. This is a poor picture of me climbing switchbacks, but I find it gratifying since you can see how steep the hill was.
(Larry ran the switchbacks, and occasionally cried out things like "hoo-yah!!". Such glee, whereas I've always only been a peer-pressured hiker.) Similarly, here I am concentrating my way across a slippery snow field.
You can see Sanna (yellow shirt) and Shawn's shoulders behind me. (Also, behind all of us, you can see the grey and red martian rock. Never forget that Rainier's a volcano.)
Despite the unfortunate shock of both elevation gain (1700 ft) and distance (5.5 miles roundtrip, plus the preliminary hike up from the car), the Panorama Point hike was gorgeous, both as we walked and whenever we stopped. The wildflowers were great. We saw tons of lupine (both purple/blue and a cream version), magenta paintbrush, several kinds of alpine lilies and daisies, something that looked similar to queen anne's lace, heather, and many unidentified pretty things.
The views were amazing. We could see Mount Hood (especially later in the day) and there were several contenders for Mount St. Helens, but I'm not sure which one it actually was. Here are Shawn and Sanna posing against the mountain backdrop.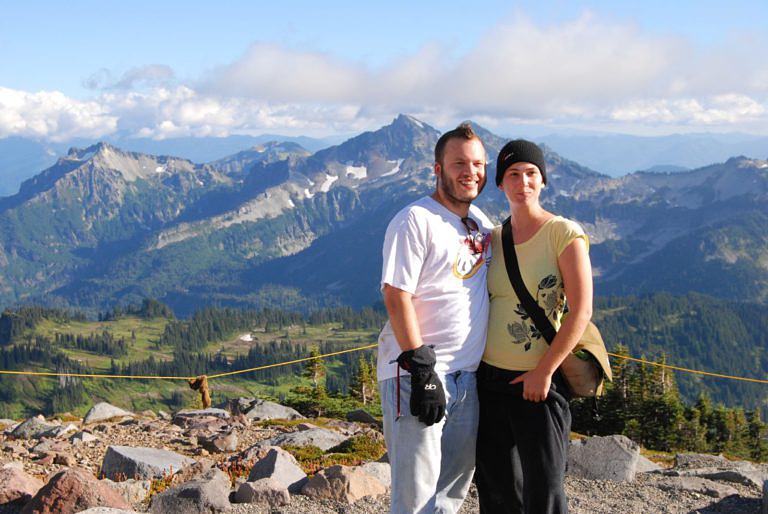 And me and Kevin with the glacier behind us.
And Larry in his element.
On the way down, things just kept getting prettier as the air cleared and then got more golden. Here's Kevin with the Nisqually Glacier.
It's so sensational and enormous and yet is apparently a shadow of what it was even a few years ago, as the glaciers here melt.
In terms of wildlife, there were surprisingly few birds and insects, but we were gratified to see MANY mammals. Our first fun siting was the marmots. Think of something about raccoon-size but that looks like a prairie dog. They were exceptionally chubby and munching away on plants, which seemed counterintuitive until I noticed that the lupine produces a fuzzy bean-like pod which I'm sure has lots of protein and fat for them. Here's Kevin on the hike up, and a marmot looking out from the rock above him.
Then we saw a mountain goat! He was lying in a snowfield, so the pictures didn't come out a bit, but this description of goats in the park has a picture. There were many very bold chipmunks – about three times the size I am used to so it must be a different creature even though they looked the same?? On the way down, we saw four deer! This guy had antlers: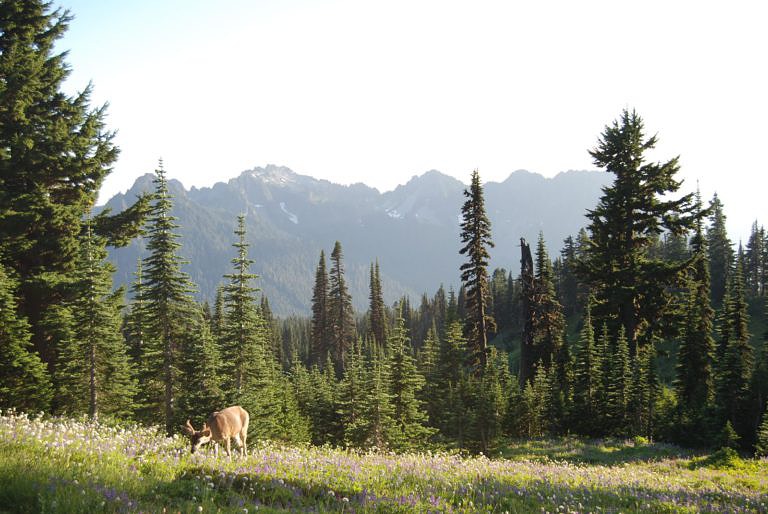 And we'd just arrived back at our car and were stretching and (blissfully) removing hiking boots, when this guy came scavenging around!
He looked like a black fox with a white-tipped tail, and was utterly fearless as he checked things out.
We got back to the car about 7:30, and home for the night right around 10. It was a fun, interesting, conversational ride home despite the dark – I love driving new routes with Kevin. Sanna posted her pictures here, and my full flickr album is here (both have photos with comments). A great way to spend twelve hours, thanks to Larry! 🙂