I probably should have just waited an hour and kept going in the previous quilt post, but recent posts have seemed so long, so I decided to save it for another day.
I finally lived it up and bought pinking shears. Kevin was skeptical, but they were a great addition to the party. After washing and ironing all the fabric (all 52 inches by 19 yards of it, which happily didn't fray in the washing machine), I cut a preliminary batch of strips. I was pleased that I remembered the lesson of the stretchy way vs. the firm way (aka, with or against the selvage) from two and a half years ago.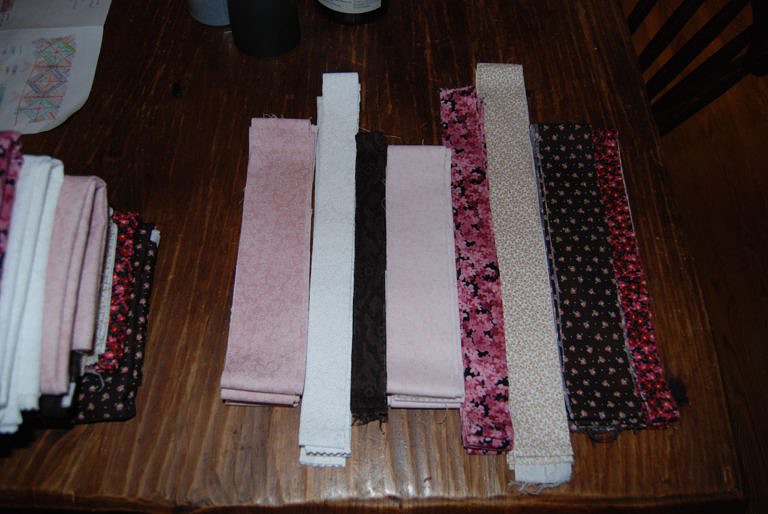 I sewed the strips into a panel.
I pressed the seams flat and starched them all stiff. (This was my first time using, or for that matter buying, starch. Very confusing – I had no idea what form factor to even look for. I finally found a spray can in the drug store, and the "heavy" version seems to be perfect for quilting. Once I started using it, Amanda seemed a bit jolted and said it smelled like her mom ironing her dad's shirts – to me, just "how 1950s". :-))
Once everything was nice and immobile, I cut the panel into squares, and the squares into triangles. (The bias cutting, and later seaming, creates the need for the starch.)
22 seams later (the same number as for a single 6"x6" log cabin block), I had two 11¼" squares.
I'm very pleased (especially with how close the seams are to lining up. Yay, starch.), though I feel like the pink square needs more of the magenta flowers. Perhaps a strip around the outside of the diamond? Debates continue, though I think I'll end up changing it – better fix it now and use the first two squares for pillows than continue to be irked by it.