I've been meaning for the last few weeks to get a picture though one of the windows in our living room. The flowers, top to bottom through the pane, are just so great, if a bit hard to capture.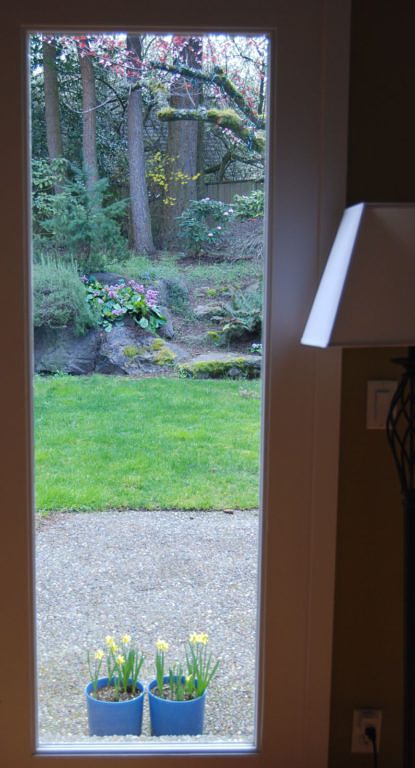 From top to bottom that's:
Pink and red blossoms and copious moss on the fruit tree.
Forsythia (the small yellow buds on branches underneath the pines).
Pink buds on the mini rhododendron on the right in front of the forsythia.
(Purple) Periwinkle all along the top of the steps.
On the left – massive pink mystery flowers that have been blooming for three months – love them.
Far right, above the grass line: some of the primroses I planted – these are variegated white and purple.
*Mowed* lawn! You can see all of the motley grasses.
Mini daffodils in pots in front of the window – I keep pulling the bulbs mid summer, putting them in ziplocs over the winter and replanting them once they start to sprout – this is year three and they were a bit late but now splendid.
And I wasn't kidding about the copious moss…
And in the front yard, we have the prettiest bush. There has been a single bloom for the last week, but the rest of the buds are just oozing promise.
Kevin took this photo with his new lens (a treat to himself for his new job! Same company, new group, and he gets to manage people which is a whole new playing field.) – pretty awesome. I'll try to get a sunny photo of the full bush one of these days, though it will be hard to get organize before all of those fat, full buds bloom. Any minute now.