Sometimes the crafting is for the baby, and sometimes the baby is just an excuse to try something new. 🙂 Today was completely a case of the latter. I bought a lightweight jersey fabric, and decided to try my hand at sewing a baby hat and pants. The hat was from the SouleMama pattern here, and the pants are based on the instructions here. All of the stretchy stitches on my sewing machine are uncharted territory for me, so it took a lot of reading the manual before I felt confident in my stitch, needle and presser foot choices. For the hat, I sewed the side seams using the serger stitch. I have thought for ages that you actually needed to buy a serger to manage this – I didn't realize my machine was already capable of it until I sat down and read the manual for the nth time. Very exciting!! I used the overcast presser foot, which is a marvel. It's the oddest looking thing, what with the pair of center bars and the little fronds on the right side, but I'm so impressed at the cleverness of it.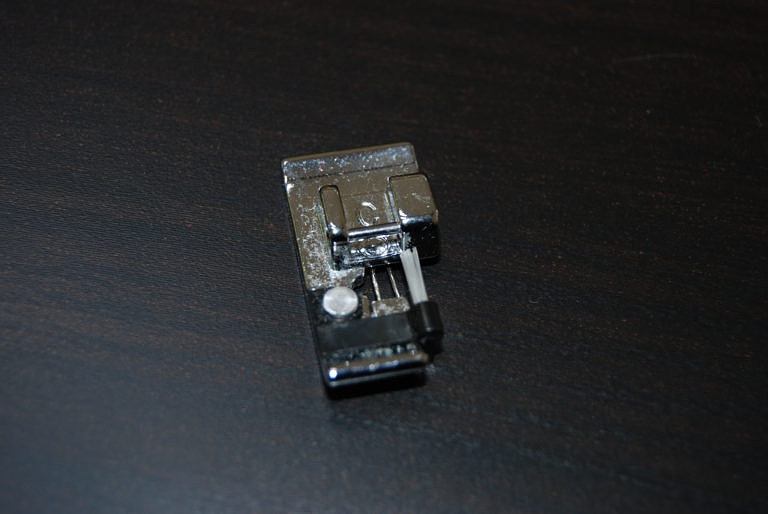 To hem the edge, I used an overcast stitch right at the edge. (I had to rip my first effort where I'd tried to set the seam in about a ¼ inch – the stitches and hem margin couldn't have been more variable if I tried – straight seams and stretchy fabrics aren't a skill I've mastered yet, apparently.) I should have hemmed first, then sewn the side seams so that they would have lied flatter – something to remember for the future.
The pants were much faster, since I didn't have to rip and redo nearly as often. The casing for the elastic is a little bit wonky, but they're pretty good for a first attempt, and as Kevin pointed out, we don't think the baby will notice that the stitches aren't perfectly even. 🙂


A pretty cute set to go over a onesie!
I have a few more cuts of jersey, so I may make more if I feel inspired. The biggest question mark from the whole experience is whether my tension was off. The serging stitches pulled through a lot to the back, and the fabric was puckered together in a ridge under the stitches. I'm curious if using the zigzag foot would have prevented the pucker? Or different tension? The jersey was extremely light-weight, so it wouldn't surprise me if the settings I used would be ideal for a stiffer fabric, but just not for this one.