The leaves have become spectacular in the last week or so. For my mom, who doesn't get to see the color turn this year, and for anyone who thinks (as I used to) that New England has a claim on brilliant colors, some pictures:
Bright leaves on the UW campus, on the way to my morning class:
And, on the microsoft campus in the evening:
This picture was taken on the walk to the bus. You can see the major line of traffic at the light — the first of many on the ride home. I'm always happy to get to knit instead of fuming at the idiots in front of me. 🙂
Microsoft's trees were the first to turn, and have been holding their leaves well. They've just started to drop this week, but much to my chagrin, the campus is kept immaculate and so there's been no chance to go stomping through the color. Getting off the bus has been incredibly disappointing, since I keep hoping that somewhere in the fifteen minutes walk from the stop to my building, there will be some chance to tromp through the leaves. Instead, I'm usually waved at by the cheerful, but excessively efficient, leaf blower people.
However, this morning, I was delighted to come across an as-yet-untouched 20 yards of sidewalk.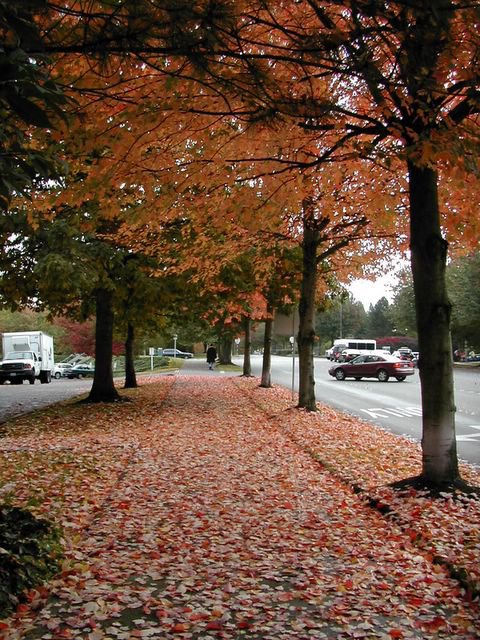 You can see the strict line that they'd blown up to, but for some reason, they'd left a lovely patch. 🙂 Yay, fall.