We are so very close to being done with the family room! I'd spent several weekends in the fall caulking, recaulking, and repainting trim. We had a few touchups left by the end of November, and so I finally went around and put all of the faceplates back on the outlets, only to find that the holes for two of the outlets were too big by about an inch in each dimension. It meant a tricky patch job, then re-priming, texturing, and painting, and we just couldn't face it. We decided to invite friends over for the Superbowl, though, and that was just enough incentive for Kevin to remotivate on the horrid outlets. So while he was working late and redoing the bathroom, he was also repairing those two tiny, wretched bits of wall. The end result (completed shortly before everyone arrived for the game) was perfectly done:
So now, for the first time since October 2007, we have neither the 10′ stepladder nor painting tarps in the family room – it looks so classy without them! (Also the photo above is a great one for seeing the wall vs. trim vs. carpet color combination – I still keep admiring how nice they look together.)
There are two remaining steps. The first is to relocate all of the hardware so that we can rehang the blinds, which have been hanging out in front of the windows in our dining room for the better part of the last 15 months.
Again, it will look so empty and neat without them on the floor. The second goal was to head back down into the crawl space and rewire the TV cabling and internet for the XBox under the floor and up through the wall. Our interim solution has had the coax cable running across the room one direction (from our hall closet) and the ethernet cable cutting a diagonal from the opposite corner.
This Sunday before the Brown dinner, Kevin got all suited up and headed down into the crawl space, and I fed him cables down through the wall (I'm always so thankful that I get to be the above-ground person), and we ended up with this: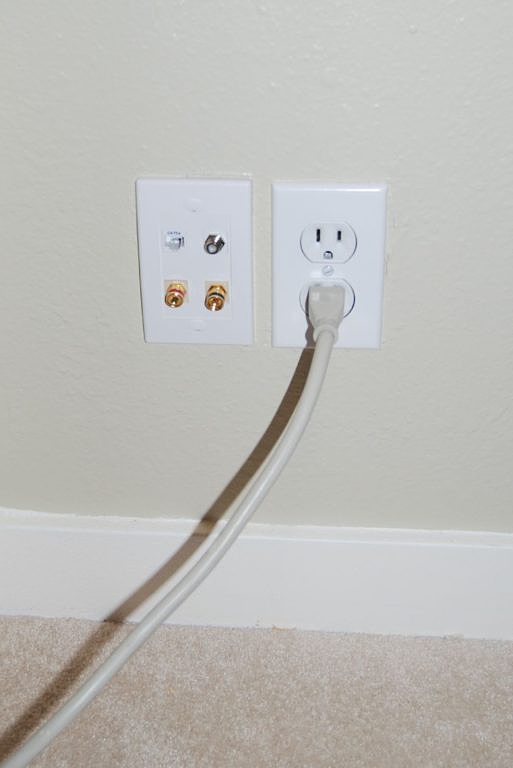 A combined outlet with speaker wiring on the bottom, a CAT-5 ethernet jack and a coax connection. Yay! The cables run directly to the hall closet and hook into all of Kevin's other networking there.
So now it's just the curtains. 🙂